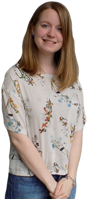 Get in touch:
Email
T: +44 (0) 1273 765250

Emma Mulhern
Emma Mulhern joined Itad as a Consultant in June 2016. Joining the Health Theme, Emma has over 5 years of experience in international development, with a focus on sexual and reproductive health and gender.
Prior to joining Itad, Emma worked in Sierra Leone where she was the Gender Advisor for Irish Aid and supported the international coordination efforts around the Ebola response. Emma also spent two years working with UNFPA in Zimbabwe, focusing on adolescent sexual and reproductive health. She has experience of designing, implementing, managing and monitoring complex, multi-stakeholder programmes and working in collaboration with national and international partners.
Emma has a Masters of Law in Economic Social and Cultural Rights from the Irish Centre for Human Rights and is in the final stages of pursing a Masters in Global Health Policy from the London School of Hygiene and Tropical Medicine.
| | |
| --- | --- |
| Nationality: | Irish |
| Country Experience: | Ethiopia, Liberia, Nepal, Nigeria, Sierra Leone, South Africa, Zimbabwe |
Qualifications:
2010
Master of Law in Economic, Social and Cultural Rights
Irish Centre for Human Rights, National University of Ireland
2008
Bachelor of Law
University of Wales
Employment:
2016
Consultant
Irish Family Planning Association
Support for the development of a global advocacy strategy for sexual and reproductive health.
2016
Consultant
Coffey International
Technical revision of thematic papers (forestry, energy and adaptation) for the integration of gender into the International Climate Fund.
2014 - 2016
Programme Advisor
Irish Aid
Supporting the Government of Ireland's response to the Ebola outbreak in Sierra Leone and Liberia; including fulfilling coordination roles, drafting policy papers, drafting internal situation analysis. Managed Irish Aid's gender portfolio, focusing on gender based violence, women's rights and adolescent sexual and reproductive health. Chaired the Gender Development Partners' working group and provided technical support to national and international partners, including acting as the donor representative on the Steering Committee for the Reduction of Teenage Pregnancy and the Writing Committee for the National Strategy for the Reduction/Elimination of FGM.
2012 - 2014
Programme Officer – Youth and Communication
United Nations Population Fund (UNFPA), Zimbabwe
Project management of projects and implementing partners under the Adolescent Sexual and Reproduction Health (ASRH) Programme.
2011 - 2012
Youth for Sustainable Development Programme Officer
ECO-UNESCO, Ireland
Direct youth work with young people from disadvantaged areas in Dublin.
2011
Editorial Consultant
Informal Sector Service Center (INSEC), Nepal
Editing and proofreading the NGO's annual human rights yearbook
2010 - 2011
Documentation Officer
Informal Sector Service Center (INSEC), Nepal
Researching human rights violations, drafting situational analyses and articles for publication and Monitoring and evaluation of district activities.
Training:
2014
Managing for Development Results, Irish Aid, Sierra Leone
2012
Project Planning and Proposal Writing, Kimmage Development Studies Centre, Ireland
2012
Using Social Media as a Marketing Tool, South Africa