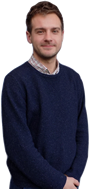 Get in touch:
Email
T: +44 (0) 1273 765250

Joseph Thompson
Joseph Thompson joined Itad in 2016 as a Business Development Administrator. He works on the preparation of tenders and provides key support to the business development team.
Before joining Itad, Joseph studied at Wageningen University and the University of Copenhagen, where he completed an MSc in International Land and Water Management and an MSc in Agricultural Development respectively. During this time Joseph's research focused on conflict over natural resources, with his thesis looking at the role of knowledge as a driver of cooperation in the Tana River County, Kenya.
Prior to this, Joseph worked as the Coordinator of a food cooperative in Sheffield. Within this capacity he managed the shop floor and launched a number of community engagement initiatives, including Sheffield's first ever bicycle veg box delivery service.