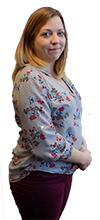 Get in touch:
Email
T: +44 (0) 1273 765250

Rebecca Atkinson
Rebecca Atkinson joined Itad in November 2017, providing business support as an Administrator within the Business Operations team.
Previously, she worked in the public sector, gaining an array of business support experience in human resources, learning and delivery, organisational development and community engagement.
Rebecca is currently studying Social Science and Humanities, with a keen interest in Social Psychology and Philanthropy.