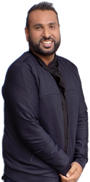 Get in touch:
Email
T: +44 (0) 1273 765250

Sonny Dhol
Sonny Dhol, is Itad's Head of Finance and joined the business in August 2016. Sonny is responsible for the finance team, management & statutory reporting, financial operations, financial planning, budgeting and forecasting.
Sonny is a qualified ACCA Accountant with 18 years accounting experience, and prior to working at Itad worked in Educational Travel, Online & mainstream Travel, and in Accountancy Practice, within the UK and Asia.
Sonny enjoys working in Organisations that are growing and require enhancements in financial Operations, reporting, team development, business partnering and restructuring.
Sonny says about Itad, "It's a great place to work as everyone believes and promotes the values and mission statements of Itad".