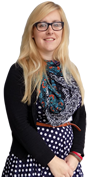 Get in touch:
Email
T: 01273 200726

Tara Stearn
Tara Stearn joined Itad in 2014. Tara has previously worked in roles in South Korea, Cambodia, Australia and New Zealand, and studied in China.
Tara is responsible for overseeing all systems developments and upgrades. She project manages any system changes and improvements and supports the development and management of internal information resources and networks as part of the company's knowledge management approach. Tara is also responsible for providing appropriate training and advice to colleagues on information and data security.
Tara manages all internal IT System infrastructure, architecture, cyber security, information security and in-house information systems. She holds responsibility for identifying solutions to streamline information processes as well as planning, developing and implementing solutions to this effect.
Tara holds a BA (Hons) in English and an MA in Communication and Languages, her specialisations are anthropological linguistics & digital communication.