Evaluation of Approaches to Build Capacity for Use of Research Evidence (BCURE)
2013-Ongoing, Bangladesh, Kenya, Malawi, Pakistan, Sierra Leone, South Africa: DFID
The effective use of research by those who make policy in the Global South can have a real impact on decision-making. DFID launched their 'Building Capacity to Use Research Evidence' Programme (BCURE) with the aim of increasing the capacity of policy makers, practitioners and research intermediaries to use research effectively.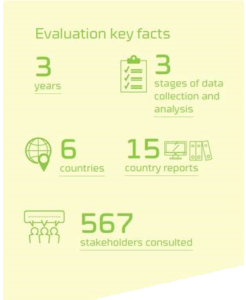 BCURE consisted of six separate projects, implemented by six different partners, across 12 countries in Africa and Asia. Each project worked with government stakeholders through a range of interventions, designed and combined in different ways by different partners.  These included: training on how to access, appraise and use evidence in policy making (online and face-to-face; in-workplace and residential; shorter and longer in duration), practical workshops, mentoring, facilitating online and face-to-face networks, developing tools, systems and manuals to embed evidence use at an organisational level, and working with 'evidence champions' in government organisations.
Itad, in partnership with the University of Stellenbosch, conducted a 3-year realist impact evaluation of the BCURE programme, led by Isabel Vogel. The primary aim of the evaluation was to strengthen the evidence base on how capacity building can promote evidence-informed policy, to inform decisions within and beyond DFID about whether to fund and how to design this type of programme in future.
It encompassed annual internal programme evaluations of the six BCURE projects, a literature review, an impact case study of a non-BCURE capacity building initiative, and annual synthesis reports – all of which are available on the Itad website here.
For more information on the BCURE project please visit the BCURE website.
Find out more about BCURE Knowledge Products.
Image © School for the first time. Photo credit: DFID