Global Evaluation of UNICEF's WASH Humanitarian Action in Protracted Crisis, 2014 – 2019
2014-2019; UNICEF; Multiple Countries
UNICEF is an internationally recognised actor in humanitarian WASH responses, having been a leading advocate for safe water initiatives from the 1960s. UNICEF's remit has widened over the years to include sanitation and hygiene initiatives aligned with good practice in WASH today. As the number and duration of protracted crises has grown in recent years, the scale of UNICEF humanitarian action has expanded both geographically and financially, including for WASH. UNICEF has provided 32.7 million people with drinking water, 9.0 million with sanitation and 28.1 million with hygiene promotion between 2015-2017 alone.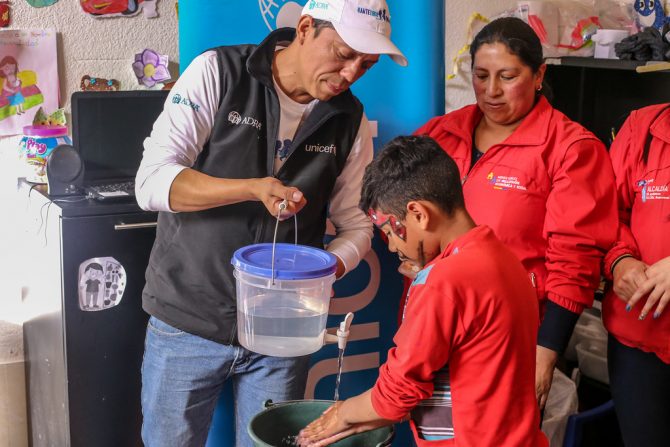 Itad has been commissioned to undertake an evaluation of UNICEF WASH humanitarian action. The primary purpose of the evaluation is learning by generating credible evidence on quality programming, leadership and coordination, adequacy of monitoring and reporting of results, implementation capacity, and on the humanitarian-development nexus. The evaluation will advance internal advocacy efforts to implement necessary changes to systems, procedures, processes and practices to respond to future large-scale complex emergencies. Furthermore, the evaluation will contribute to organisational accountability by assessing the relevance, performance and quality of UNICEF's work in humanitarian action in WASH.
Our evaluation approach is learning and utilisation focused in order to ensure the generation of practical lessons and recommendations to support UNICEF HQ, Regional and Country Offices tackle barriers and challenges in the implementation of WASH responses in protracted crises.  A global document review, thematic analysis of literature, and of data across five desk-based and three field-based case studies, Key Informant Interviews and an online survey will feed into the synthesis of our findings and related recommendations.