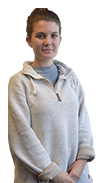 Get in touch:
Email
T: +44 (0) 1273 765250

Betsie Lewis
Betsie Lewis joined Itad in autumn 2019 as a Research Analyst in our Fragile and Conflict-Affected Settings theme.
Betsie holds an MSc in International Development: Poverty, Conflict and Reconstruction from the University of Manchester (global development institute) having previously gained a BA in French and Arabic. As part of her undergraduate studies, Betsie completed an environmental internship in Morocco where she worked on raising environmental awareness through community projects. Following this, she lived in Jordan for six months where she studied full time and volunteered in the field with multiple projects providing aid to refugee communities (mostly Zaatari refugee camp).
Whilst at university, Betsie volunteered as a researcher for grassroots community groups working to support refugee groups and asylum seekers across Manchester and volunteered as a caseworker for asylum seekers in Merseyside.
Betsie speaks French, German, Arabic and English. She has country-experience in the Middle East and North Africa including Palestine, Lebanon, Jordan, Egypt and Morocco.