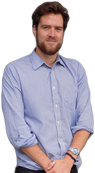 Get in touch:
Email
T: +44(0)1273 200718

Callum Hislam
Callum Hislam joined Itad in October 2014 as a Travel Assistant and moved into the role of Travel, Safety and Security Officer in January 2017.
Callum is responsible for overseeing Itad's Duty of Care Framework and works on travel and security risk management, project acquisition and delivery, due diligence, as well as monitoring and reporting to internal travel and security committees. Callum also works with clients and external partners to ensure all security measures meet Itad standards, and he manages Itad's relationships with external security providers.
Callum received a BA (Hons) Degree in Geography & Sociology at the University of Sussex in 2010. Subsequent to this he worked in a diverse range of jobs, including; Conservation and Land Management, Catering Management, and various office based administration roles.
Callum is an avid adventurer and regularly undertakes long distance cycle tours around Europe and beyond. Prior to commencing his work at Itad, Callum worked on International development projects in both India and Myanmar. These projects featured reforestation in the Western Ghats, and working on Social development in Yangon respectively.