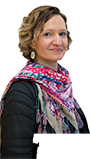 Get in touch:
Email
T: +44 (0) 1273 765250

Diana Dezso
Diana Dezso is a financial inclusion specialist with more than 15 years of experience in the sector.
Diana specialises in learning and organisational development, capacity assessment, programme implementation and evaluation, and new business development. She works with global alliances and learning networks on knowledge management, engagement and expansion strategies.  She has undertaken global research on strategic risks and opportunities facing MFIs in the developing world. She has worked in senior leadership positions of international organisations in both Washington and the field, including the SEEPNetwork and  ACCION USA.
Diana is currently team leader of the Mastercard Foundation Savings Learning Lab, an initiative implemented by Itad, in partnership with the SEEP Network. In this role, she provides organisational and technical leadership on activities aimed to support learning among the learning partners and others in the sector through the generation, synthesis, curation and dissemination of knowledge.
Diana has an MPA from New York University and is fluent in Romanian, proficient in Spanish, and speaks basic French.
| | |
| --- | --- |
| Nationality: | Romanian (US citizen) |
| Languages: | Romanian (native fluency), Spanish (proficient), French (basic) |
Qualifications:
2003
Master of Public Administration
Robert F. Wagner Graduate School of Public Service, New York University
1997
Bachelor of Arts in Economics
Babes-Boyyao University, Romania
Employment:
2013 - ongoing
Independent Consultant
Financial Inclusion
2012 - 2013
Senior Director, Member Affairs and Global Communication
The SEEP Network
2006 - 2011
Director – Association Development Community of Practice
The SEEP Network
2003 - 2006
Director of OnTRAC – Training, Resource and Advising Center
ACCION New York (now ACCION East)
2002 - 2003
Graduate Research Intern – Economic Development
United Nations Capital Development Fund
2001 - 2002
Research and Development Associate
Education Development Center, Global Learning Group
1998 - 2000
Executive Assistant to the Director/Human Resources Officer
World Vision International
CAPA Microcredit
Project Experience:
2016 - ongoing
The Mastercard Foundation: Savings Portfolio Learning Partner
(Itad Ltd) -

Team leader
Leads activities to support learning in the Foundation's savings sector portfolio programs through increased alignment and effectiveness of monitoring and evaluation activities and through the generation, synthesis, curation and dissemination of evidence and knowledge for a range of stakeholders.
2017
User Centered Design for Sanitation event
(17Triggers) -

Lead facilitator
Facilitated a set of curated activities for a select group of participants experienced with using UCD strategies to develop better products, services, and business models in the sanitation sector.
2016
MetLife Foundation Innovation Circuit 2016
(17Triggers) -

Co-lead facilitator
Facilitated a dynamic three-day event focused on design thinking and innovation in financial inclusion.
2015 - 2016
Theory of change, monitoring and evaluation framework, and evaluation protocols development
(MasterCard Foundation and Boulder Institute Financial Inclusion Symposia) -

Consultant
Performed evaluative activities, data analysis and report writing.
2014 - 2016
Linking for Change Savings Charter
(CARE, Barclays and Plan UK) -

Learning and Engagement Director
Responsible for operationalizing a global alliance and engagement strategies for member organizations committed to developing savings products for BOP clients.
2015
Strategy development and implementation support to the first Leadership Lecture Series Event on Customer Centricity
(CGAP) -

Consultant
2015
Organizational assessment, business plan and financial viability strategy for the National Microfinance Association in Jordan
(The SEEP Network) -

Consultant
2015
WASH Microfinance Global Learning Strategy
(Water.org) -

Consultant
2014
Published a series of four articles documenting innovative, locally-responsive approaches to financial inclusion by select microfinance associations
(The SEEP Network) -

Consultant
These include: Islamic Microfinance in Azerbaijan, E-money in Peru, Mobile Banking in Ecuador and Microfinance Products for Low Cost Private Schools in Pakistan.
2014
Global research project related to strategic risks and opportunities faced by microfinance organizations
(The SEEP Network) -

Consultant
2013
Organizational assessments of Cambodia Microfinance Association and Laos Microfinance Association
(ADA Microfinance and The SEEP Network) -

Consultant
2013
Research report on health related barriers to financial inclusion for women in Africa
(Freedom from Hunger) -

Consultant
Publications:
Microfinance Associations: Roles and new leadership opportunities (series)

(2015)
The SEEP Network
D. Dezso


SEEP Client Protection Market Diagnostic Tool

(2014)
The SEEP Network
D. Dezso


Keeping an Edge: What Will It Take in the Current Microfinance Context?

(2013)
The SEEP Network
U. Sengupta, D. Dezso