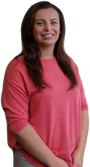 Get in touch:
Email
T: +44 (0) 1273 765250

Gina Koroknai
Gina Koroknai joined Itad in the summer of 2017 as a Finance Administrator. She is responsible for the purchase ledger function and works on streamlining current processes within the finance team.
Prior to this role, Gina worked for a corporate company as a European Financial Analyst. She has over five years with strong experience in budgeting, forecasting and trend analysis.
Gina is currently studying towards her accounting qualification.