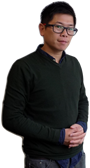 Get in touch:
Email
T: +44 (0) 1273 765250

Tony Tsim
Tony Tsim is Itad's Finance Manager and joined the company in December 2016. His responsibilities include management reporting and running of day to day finance operations.
Tony is a qualified ACCA accountant with 20 years of experience, and prior to joining Itad worked in educational travel, social housing, and aviation industries.
Tony enjoys working for forward-thinking companies and particularly enjoys the financial reporting aspect of his role which is realised within Itad.
Outside of work Tony has travelled extensively and enjoys being immersed in, and learning about, different cultures, especially within the culinary arena.